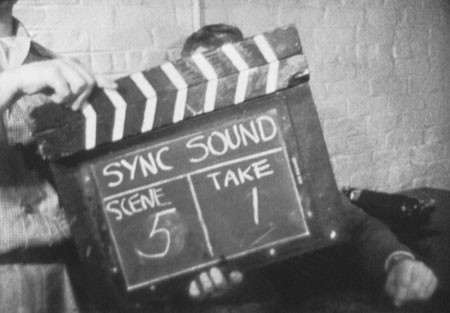 @SEA No. 14, "Soundtrack"
Thom Andersen, screening –

Get Out of the Car

(34 min)

David E James, film and talk, sound in the work of Bruce Conner and Kenneth Anger

Susan Silton, talk and video

Jean-Luc Guionnet & Chelsea Rector, performance for saxophone and dancer of

What is lasting in what lasts. / What lasts in what is lasting.
Doors open at noon, event is 12:30pm to 2:30pm.
Poetic Research Bureau, 951 Chung King Road, Chinatown
* * *
Thom Andersen
is an internationally renowned curator, filmmaker and scholar who has been creating experimental films for over 45 years. He attended Berkeley in the early 1960s and then returned to his hometown of Los Angeles to attend USC film school where he studied with Arthur Knight and eventually assisted on Knight's project THE HISTORY OF SEX IN CINEMA. While at USC Andersen met long-time friend and collaborator Morgan Fisher who assisted on Andersen's student film MELTING, a portrait of a sundae. He regularly attended local screening series including shows by the Trak Film Group and Movies 'Round Midnight and famously wrote about a controversial screening of Andy Warhol's SLEEP. After USC, Andersen attended UCLA and completed his experimental documentaries OLIVIA'S PLACE, EADWEARD MUYBRIDGE, ZOOPRAXOGRAPHER and --- -------. During the 1970s his films screened at venues including Los Angeles' Theatre Vanguard and San Francisco's Pacific Film Archive. In 1976 he moved to Buffalo, New York and after briefly teaching became a programmer at Media Study Buffalo. He then moved to Columbus, Ohio where he taught for twelve years. In 1987 he returned to Los Angeles and began teaching at CalArts. In 2003 he attracted significant attention for his essayistic, feature length documentary LOS ANGELES PLAYS ITSELF. The film won the National Film Board Award for Best Documentary at the 2003 Vancouver International Film Festival and was voted best documentary of 2004 by the Village Voice Critics' Poll. In 2010 he completed GET OUT OF THE CAR, a portrait of signs and abandoned spaces set to Los Angeles music.
David E. James
has lived in Los Angeles since 1971. His recent books include THE MOST TYPICAL AVANT-GARDE: History and Geography of Minor Cinemas in Los Angeles, and the co-edited collections, OPTIC ANTICS: The Cinema of Ken Jacobs and ALTERNATIVE PROJECTIONS: Experimental Film In Los Angeles, 1945-1980. His ROCK 'N' FILM: Cinema's Dance With Popular Music was published by Oxford University Press earlier this year.
Susan Silton
is a multidisciplinary artist based in Los Angeles. Her practice meshes photography, video, installation, performance, sound, and language. Her work often is often installed in public spaces, such as with her contribution to HOW MANY BILLBOARDS? and A SUBLIME MADNESS IN THE SOUL, a rooftop opera to commemorate the recently deconstructed Sixth Street Viaduct in Los Angeles. She also leads the all-female whistling group The Crowing Hens, a six woman whistle orchestra, which has recent performed at SITE Santa Fe and LAX Gallery, among other venues.
Jean-Luc Guionnet
is a Parisian artist active in many fields (music, visual arts, cinema). He has mostly worked in electro-acoustics but also has a career in free improvisation, playing alto saxophone, soprano saxophone, church organ, and piano. He has collaborated with Éric La Casa, Éric Cordier, and André Almuro on tape music. His main free improv and jazz projects include Hubbub, Schams, Return of the New Thing, and the Joe Rosenberg Quintet.
Chelsea Rector
is a Los Angeles based interdisciplinary poet, actress and dancer. She recently appeared in Asher Hartman and Gawdafful National Theater's production of THE SILVER, THE BLACK, AND THE WICKED DANCE, at LACMA's Bing Theater.